The History of the United Methodist Children's Home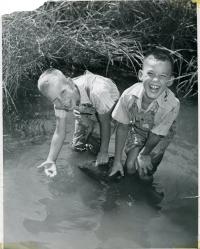 The United Methodist Children's Home was founded by the North Alabama and Alabama-West Florida Conferences of the United Methodist Church in 1890, with the belief that every child is entitled to live in a caring and nurturing home. It began as the Alabama Methodist Orphanage located in Summerfield, Alabama. It moved to Selma in 1911 and became the United Methodist Children's Home. The Children's Village in Selma was constructed in 1940 as a beautiful community of 10 cottages and a quaint Chapel; a symbol of the faith, hope, solace and peace we hope to instill in our children.
As the needs of children and families change, the United Methodist Children's Home evolves to meet those needs and is now much more than an "orphanage." We have become a very vital, trusted and relied upon agency for childcare and family services.
Over the years, the United Methodist Children's Home has established other service centers located throughout the state of Alabama and Northwest Florida to help thousands of children and family members through our "Babies First" programs, Therapeutic Foster Care programs, Family Preservation and Support services, Assessment Centers and some Adoption and referral services – as well as through our historic Residential Group Homes for young people unable to live with their families for various difficult, and sometimes traumatic circumstances. The Selma campus closed in 2010 as the childcare industry moved away from campus-style treatment to more community-based. The ministry headquarters moved to Montgomery, AL, where it continues to manage the diverse, holistic programs that transform the lives of children and families.
The United Methodist Children's Home works closely with child welfare agencies, churches and extended families in both Alabama and Northwest Florida in order to provide the best possible care for abused and neglected children. The collaborative relationships we have established, and continue to pursue, exemplify the caring spirit of the United Methodist Children's Home to reach children in need wherever and whenever we are able.
We are licensed by the Alabama Department of Human Resources, the Alabama Department of Youth Services, and the Florida Department of Children and Families.